As you know it is Halloween on Friday. For the first time ever I am excited! I know Dexter is way to young to understand what is going on but never the less we have decided to celebrate it anyway and are having a little Halloween party for him and his cousin Ted. So far I have bought him a pumpkin outfit and not much else, the rest is getting sorted this week! I have however been looking at Halloween food recipes and the internet is inundated with some rather fabulous ideas. So today I have decided to share my favorites with you and hopefully give you some inspiration for your own Halloween celebrations.
Last year over on Boho Weddings I put together this Halloween food board, which I thought I would share with you again today.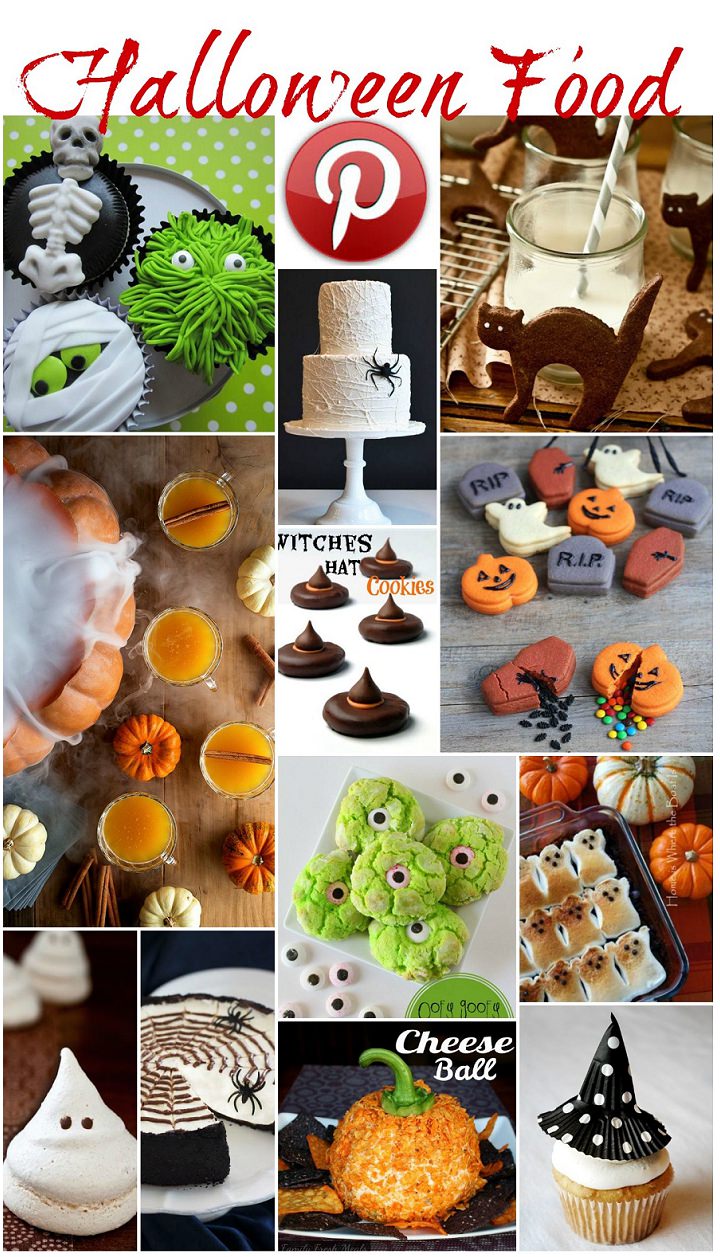 Photo Source: Monster cup cakes / Spider cake / Cat cookies with milk / Pumpkin punch  / Witches hat cookies / RIP cookies / Green eye cookies / Ghosts / Ghosts meringue  / Cobweb cheesecake / Cheese Ball Pumpkin / Cupcake witches hat. 

From this Board I have decided to make these Monster Eye Cookies. Thanks to Lil Luna for the recipe 
Ingredients
1/2 cup butter softened
1/2 tsp. vanilla
1 8 oz. bar cream cheese softened
1 egg
green food coloring
powdered sugar
candy eyeballs
Instructions
STEP 1) Beat butter, vanilla, egg and cream cheese until fluffy.
STEP 2) Mix in cake mix. Add green food coloring until it's the color you want. I used neon green. Chill for 30 minutes.
STEP 3) Roll into balls and dip in a bowl of powdered sugar.
STEP 4) Bake at 350 for 10-12 minutes. While warm push eye balls into the center or all over the cookie.
I found the candy eyeballs HERE 
Rice Crispy Pumpkins – (Recipe HERE) 
Chocolate Peanut Butter Spider Cookies – (Recipe HERE) 
Pretzel Pumpkins – (Recipe HERE)
Frozen 'Boo'nana – (Recipe HERE)
Pumpkin Cheese Ball – (Recipe HERE) 
Mini Donut Spiders – (Recipe HERE)
Poison Toffee Apples – (Recipe HERE)
Spooky Fried Cheese Eyeballs – (Recipe HERE) 
Halloween Spaghetti – (Recipe HERE)
Dracula's Dentures – (Recipe HERE)
So which one is your favourite?? I think might try the 'Boo' nana as well for a slightly healthier option! I'd love to know what you have planned this Halloween, feel free to leave your ideas for food, decoration and entertainment below.
Big Boho Love
Kelly H xx
Other things you may love: